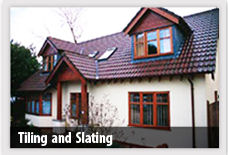 This is a roof construction showing a good example of concrete double roman tiling. With cloak verge tiles to the right gable ,a pair of velux roof windows can be seen above the porch; the fitting of velux "skylights" camera has its sides clad with lead shee. Lead is the most durable roofing component and is used in a variety of applications.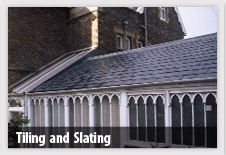 The single storey roof section depicts natural slating with a lead ridge which consists of lead sheet dressed around a wood cored roll. The combination of lead and slate presents a very traditional look along with proven durability.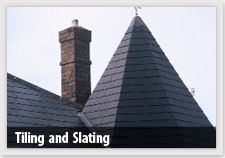 The roof and turret shown in this photograph has fibre cement roof coverings. The material is manufactured and is the most economical form of slating. An interesting detail is the close mitred hips with concealed lead flashings; also visible is a lead lined valley junction and a run of concrete hip tiles to the main roof.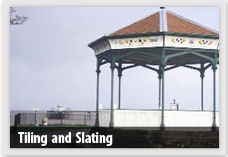 The bandstand on this photograph has a clay plain tile roof covering with lead covered hip junctions.  Plain tile hips can be constructed using a variety of distinct materials and shapes, the lead covered roll is traditional while the half round hip tile gives a softer look. Bonnet hips and dry fixed purpose made hips give a very different look; they look more decorative as well as being adequately functional.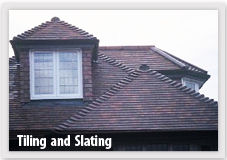 This shot graphically shows the aesthetic quality of plain clay tile bonnet hips and the pre-formed 90-degree corner tiles which are fixed to the dormer, all of these tiles are mechanically fixed using alloy nails and as a result of the bonding quality of plain tiles, we have an exceptionally strong roof covering.
 
 
 
These diagonal slates are not the most common of roof coverings but when fitted professionally they can look effective. Note: Valley Junction and Ridge details. These slates also come in a variety of colours to match adjacent roofing situations or abutments.