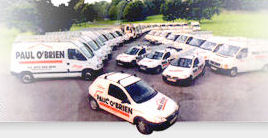 30 years ago Paul O'Brien set up his own roofing company covering Bristol and North Somerset
Today the company operates from Bristol and is one of the best established roofing companies in the region. Paul O'Brien Roofing which employs a staff of twenty highly experienced and well trained roofers, has completed prestigious contracts in and around the West Country and South Midlands. "We have gained a reputation for not letting our customers down" said Paul O'Brien. "We say we are going to do it and we do it well". Because of this, most of their work has been through referrals from satisfied customers, both private house owners and commercial concerns.
The company carries out all kinds of domestic and commercial roofing work from new build to restoration of small works and large contracts. Also it is increasingly becoming well known for specializing in tiling, slating and lead work for heritage of listed buildings, churches etc... Recent contracts for instance have included the old entrance to the city of Bristol, St John the Baptist Church as well as extensive flat roofing contracts at Rolls Royce which have led to an increase in direct work from architects who need to use their skills and knowledge of older buildings.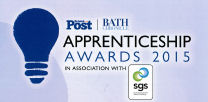 Paul O'Brien Solar Installations (SW) Ltd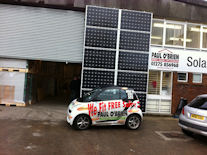 When you choose Paul O'Brien Solar Installations (SW) Ltd to install your solar system to your home or business you take the first steps towards regaining control of your energy costs.
You also take an active role in choosing this source of your electric power without making any changes in your lifestyle. You can enjoy this knowledge that you are drawing from a clean renewable source of energy, 'Daylight' to save money year after year along with helping clean the environment.
Paul O'Brien Solar Installations (SW) Ltd is an associated company of Paul O'Brien Roofing Ltd. It only seems natural that if work is required on your roof the men for the job are roofers hence the formation of this solar company. Visit our solar website.